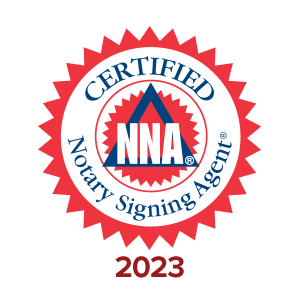 VIRGINIA NOTARY SERVICES
Certified by the NNA, bonded & insured. Notary services are available by appointment and all signers will need to show a valid government-issued photo ID.
NOTARY PUBLIC
Administering Oaths, Notarizing Wills, Power of Attorney, Healthcare Directives, Trusts, and other Legal Documents.

MOBILE NOTARY
A notary travels to your location, to complete your notary documents.

NOTARY SIGNING AGENT
NNA Certified notary signing agent available for real estate closings, loan documents, refinances, and other real estate transactions.
Call or Email for Pricing
703-980-4045
Williams Realty, LLC
12305 Delevan Drive
Herndon, VA 20171
Williams Realty, LLC
Spike & Julie Williams, Realtors®
Your Guides to Real Estate